Santa Monica is spread over eight and a half miles along the world-famous Pacific Coast Highway and has easy access to both Los Angeles and the California coast. The city is teeming with beautiful places to kick back, offering a wide range of luxury real estate, local businesses, and seemingly endless sunshine.

Santa Monica offers a slice of the quintessential Southern California lifestyle, with arguably the best food in LA. From world-class sushi to top-notch vegan food, this tourist-friendly beach town is jam-packed with restaurants. Regardless of your price point or what you're craving, you can find something to satisfy your appetite in Santa Monica.


1. Forma Restaurant & Cheese Bar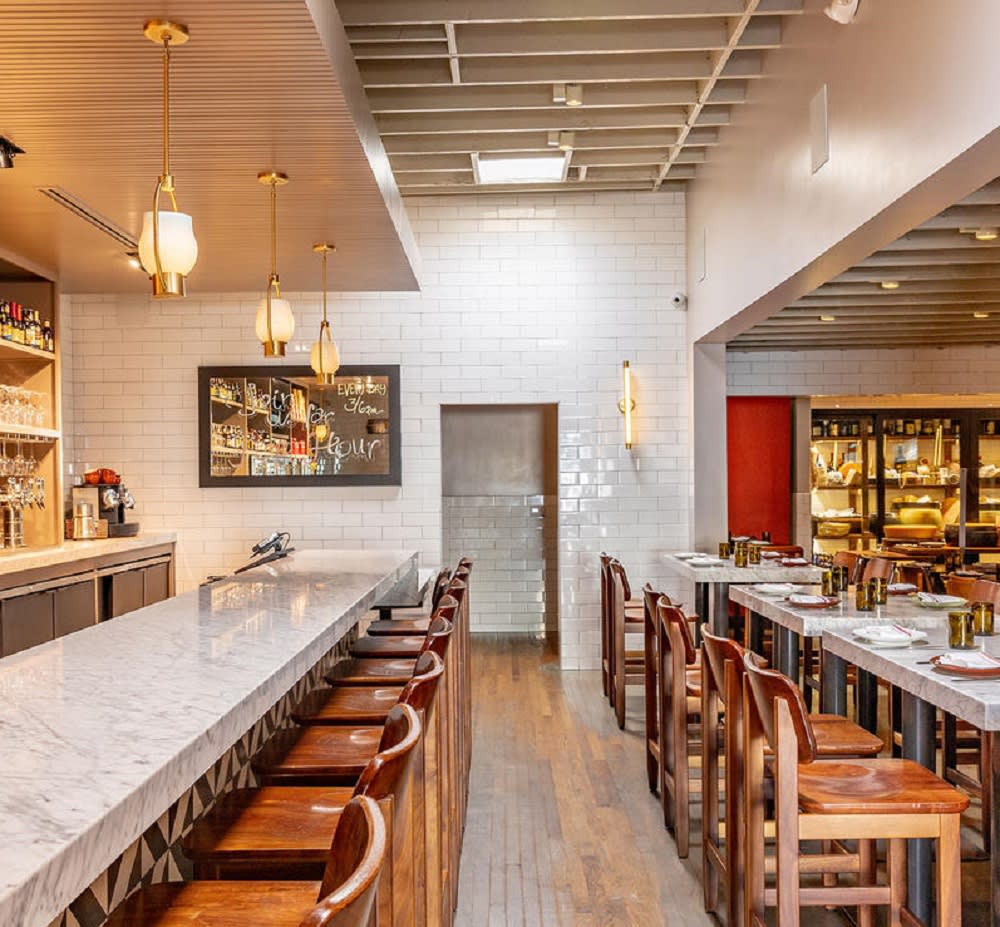 Credit: Forma Restaurant & Cheese Bar

Located on Santa Monica's historic Montana Avenue, Forma is the place to go if you're looking for a luxury dining experience. This stylish spot is famous for its contemporary spin on authentic Italian dishes. Forma was originally created under the collaborative direction of two notable figures in the Los Angeles hospitality scene, Executive Chef Piero Topputo and General Manager Mario Sabatini. The restaurant, which received its name in reference to the star ingredient formaggio, serves a diverse array of rustic Italian dishes and pasta. The pasta is served Dalla Forma, which refers to a unique preparation method where freshly cooked pasta is then finished in large cheese wheels before serving. In addition to exciting entrées and small plates, you can complement your meal with something from the extensive menu of Italian wine or beer. The dessert menu features decadent dishes such as the banana pecan tart or the chia vanilla petit pot. If your appetite isn't enough to justify an entire meal, then consider opting for a cheese tasting. The cheese menu features flavors from sweet, savory, and caramelized—to sharp and tangy.
2. Margo's Bar + Kitchen
Margo's Bar + Kitchen is one of Santa Monica's most popular spots when it comes to plant-based eating. Open daily from lunch to late night, Margo's is all about seasonal and sustainable food. The 100% vegan menu is crammed full of fresh and flavorful dishes. With floor-to-ceiling windows and a muted color palette, this New American eatery provides a low-key, homey ambiance for an unforgettable meal.
3. The Lobster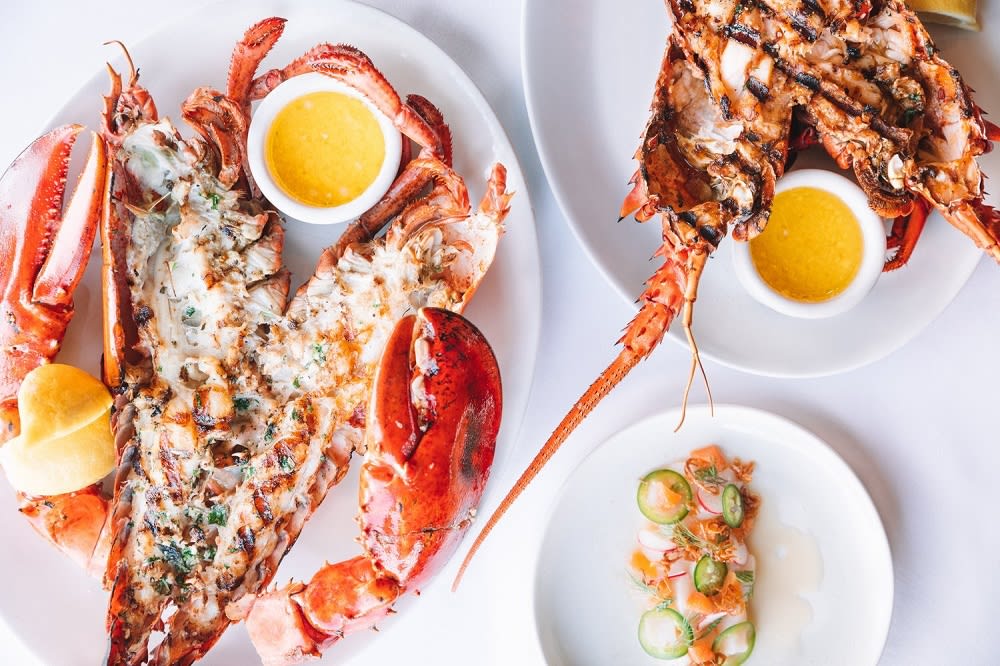 Credit: The Lobster

Santa Monica is built on the oceanfront, and there are plenty of restaurants where you can experience the highest-quality seafood. A local favorite is The Lobster, which is nestled on a bluff where Route 66 meets the Pacific Ocean. This internationally recognized seafood restaurant allows you to enjoy your meal while taking in scenic views of the Santa Monica Pier below—which makes for a truly indescribable experience at sunset. Established in 1923, The Lobster specializes in Marine and California Spiny Lobsters, as well as entrées crafted using fresh, seasonal, locally-sourced ingredients. The restaurant, which offers a seasonal menu, is the brainchild of acclaimed celebrity chef Govind Armstrong.
4. Golden Bull Restaurant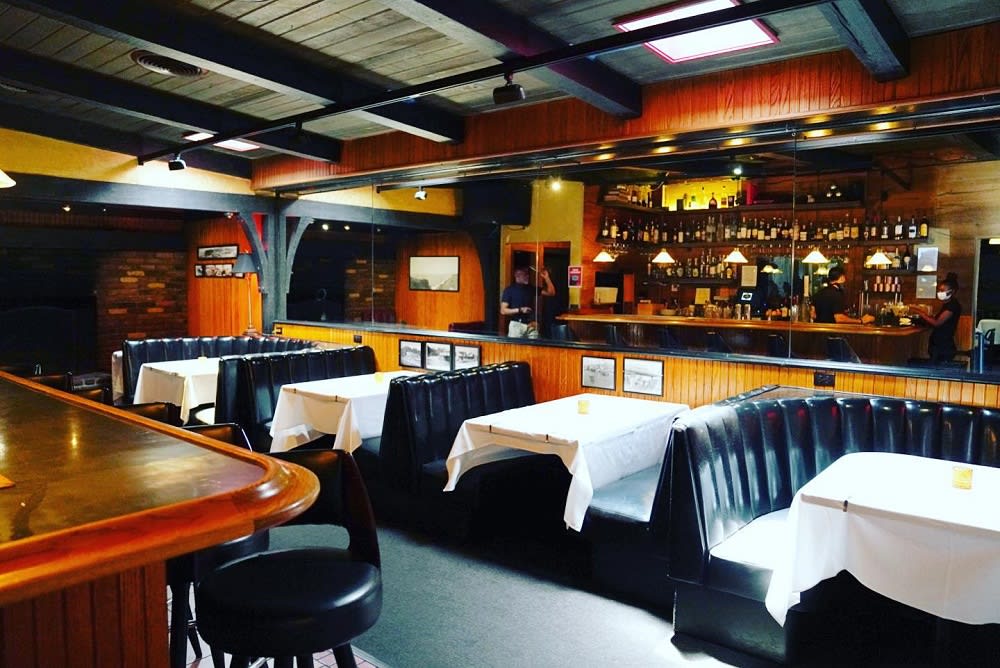 Credit: Golden Bull Restaurant

Golden Bull Restaurant has been a part of the Santa Monica community since its first opening in 1949. Since then, they have become one of the city's most well-known restaurants. They serve up steakhouse favorites, fresh seafood, and veggie-centric dishes. Stop by for brunch on the weekends (12:00 PM to 3:00 PM) for Chophouse Hash or French Toast sticks. This hearty brunch is great after a night out in Santa Monica and will guarantee you leave satisfied. In recent years, The Golden Bull has been revitalized under new ownership, who oversaw giving the steakhouse a minor facelift. But don't worry—you can still look forward to the old-school vibe and local draw that has appealed to locals and travelers for the past 70 years.
5. HiHo Cheeseburger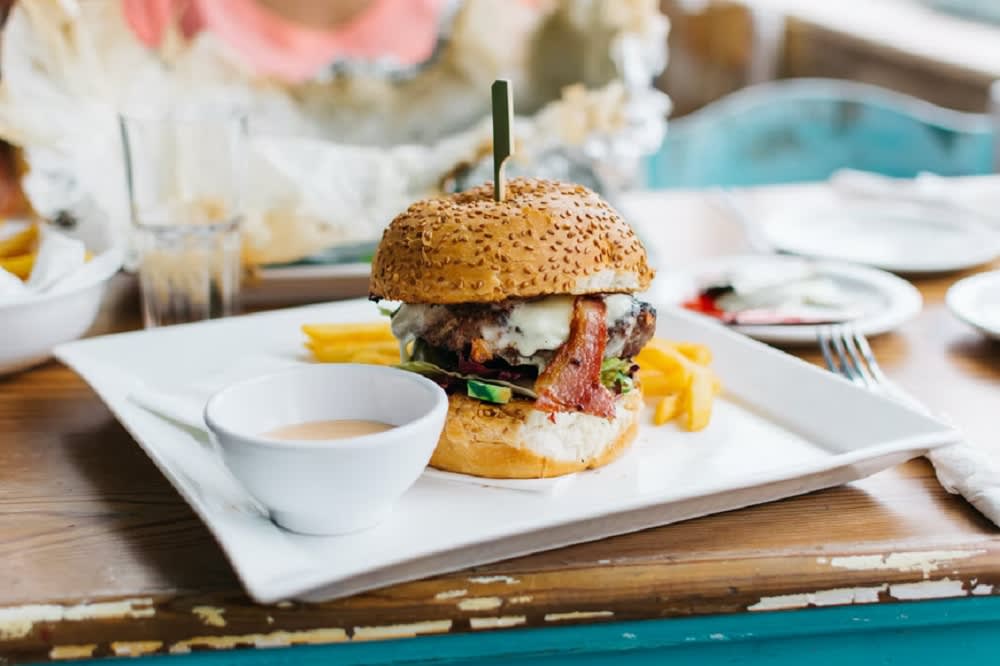 Looking for a fast-casual experience? Be sure to add HiHo Cheeseburger to your Santa Monica bucket list. Located in the heart of the Third Street Promenade, this chic restaurant originated in Ojai, CA before opening a location in Santa Monica in 2017.

The casual, lively ambiance makes this a great spot to catch up with friends or grab a bite to eat after a day by the water. HiHo uses 100% grass-fed wagyu beef, resulting in a quality that you can't miss. The beef comes from First Light Farms, which consists of 61 farmers who are committed to sustainable ranching. If you don't eat meat—no problem! Try the gluten-free, house-made vegan patty. HiHo's milkshakes come from a family-run farm-to-table creamery and use all-natural ingredients.
6. Tumbi Craft Indian Kitchen
Tumbi Craft Indian Kitchen is located in the heart of Santa Monica and is known for its innovative menu. Drawing from the bold flavors and artistry of India's cultural heritage, Tumbi offers a creative spin on traditional Indian dishes. Guests can enjoy a luxurious journey through India thanks to the palette of exquisite flavors, spices, fresh ingredients, and customary dishes that celebrate each of the subcontinent's diverse regions. Open daily for dinner, this restaurant offers a rotating beer and wine list, as well as Indian sodas.
7. Heroic Italian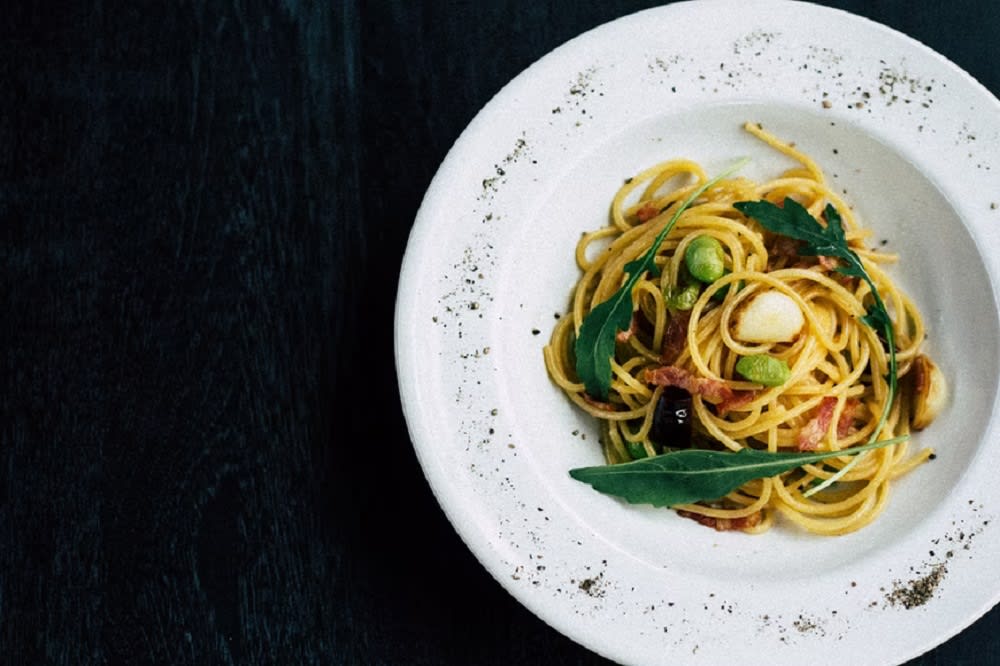 Experience top-notch Italian food at Santa Monica's very own Heroic Italian. This quaint restaurant reflects Executive Chef Jeff's upbringing in and around Boston's Italian North End and the Northeast.

Built around local sourcing and seasonal ingredients, the menu consists of everything from pasta to pizzas to sandwiches—but Heroic Italian is most famous for its sandwiches. If you don't mind getting messy, try the Polpette sandwich, complete with house-made beef meatballs in a tangy tomato sauce. You can also go for the vegan sandwich, made with fresh avocado, artichoke, caramelized onions, and signature vegan toppings. When ending your dinner on a sweet note, it's hard to top the caramel pecan tart, consisting of a buttery shortbread crust and topped with whole pecans coated in caramel.
8. Fia
Hidden within a luscious, tranquil garden, Fia is a picturesque example of Santa Monica's luxurious sub-culture for gardening and interior design. Established in 2019, Fia is a culinary collaboration between restaurateur Michael Greco and famed chef Brendan Collins. You can look forward to experiencing California cuisine with touches of Italian influence and plenty of fashionable atmospheres. Elevate your dining experience with a carefully crafted cocktail, such as the house special Fia Collins.
9. Berbere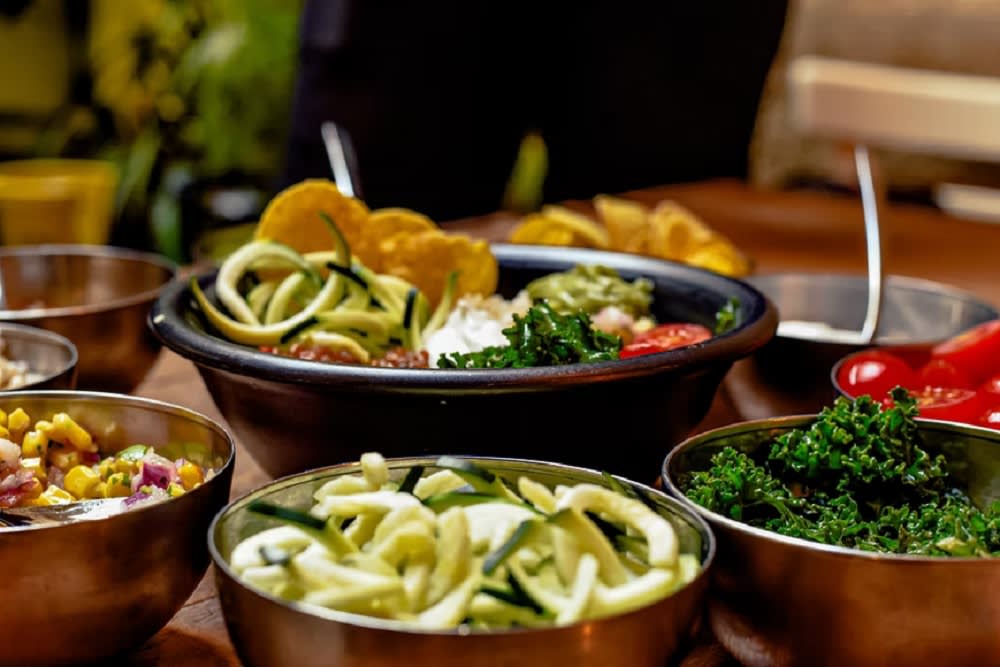 Enjoy dining at one of Santa Monica's newest and best-reviewed vegan restaurants. Using only the highest quality ingredients, Berbere offers vegan food with an Ethiopian twist. The menu includes an abundance of tantalizing and rare flavors. Go for the Green Power Smoothie, blended with fresh spinach, kale, ginger, and almond milk, or try the Ethiopian Twist Tacos, complete with lentils, mushrooms, and potatoes and tossed in house-made awaze and topped with Tangy sauce.
10. Rustic Canyon
Indulge in upscale California cuisine at Rustic Canyon. This Michelin-rated neighborhood restaurant first opened in 2006 and has since become a cherished local spot for friends to meet over exceptional food. The changing menu features farmers' market-inspired dishes with ingredients from local gardens, ranches, and the Pacific Ocean. Don't forget dessert. Pastry Chef Erika Chan was named Michelin's Outstanding California Pastry Chef in 2021 and is constantly churning out truly terrific sweets. Be sure to take a peek at the extensive wine list, which features over 300 selections by the bottle, with 30 rotating options by the glass.
Looking at Santa Monica homes for sale?
For the best luxury listings, market analysis, and real estate customer service in Santa Monica, contact Santa Monica real estate agent David Dippong.